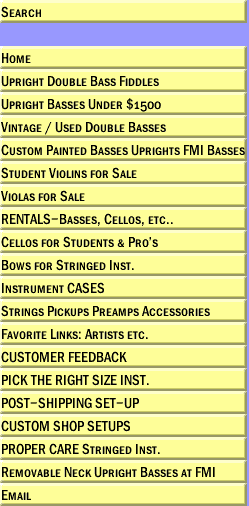 MB-45 Black 3/4 UPRIGHT BLACK BASS
Rockabilly and Bluegrass
with HOT Weedwacker Strings, or choose other slap strings like Eurosonics or Innovation.
Fabulous bass for bluegrass or rockabilly,
Get it setup for your style of music,
$99 for basic rockabilly setups.
Available in White, Blue or Red Too!

**FREE Shipping Special to Qualified* Commercial Address. Limited Time Offer**
Qualified is within 300 miles of Los Angeles to a loading dock; farther than that costs more.

You can also get a superb slap bass setup done here and get custom pinstriping to customize it too! You can suggest your style of pinstriping or just ask for basic pinstriping similar to the pictures here. Basic pinstriping refers to the amount of pinstriping not the design. Our painter reserves "Artistic License" so no 2 designs will be exactly alike.

Order and let us know just how you want it to look.
Only $159 for basic pinstriping.

$99 for basic setups for bluegrass or rockabilly!
Or $295 for full setups that dresses/reshapes the fingerboard too so you get a very smooth playing bass you can put steel strings on for jazz and will play great. This will also be great for rockabilly, bluegrass, psychobilly, orchestral with the full setup done.

$159 pinstripe example here:


The following picture is of a $695 level of pinstriping, you can ask for a different style and give us input on how you want it styled:



This next picture is of a $995 level of pinstriping:



We're easy to work with, see what our customers say about us in Customer Feedback:



Specs on this bass are:

Laminated Spruce Top


Maple back and sides


Ebonized Maple fingerboard


Arched back construction


24:1 Tyrolean-style machine heads


Padded Soft Case

Shipped in a very sturdy double walled cardboard carton with protective cardboard or styrofoam forms around the bass for superb protection.

**IMPORTANT SHIPPING NOTES:
Free Shipping to "Qualified* Commercial Address" requires the address to have a loading dock, to be located within 30 minutes, or so, of a major city, on major U.S. shipping arteries and not more than 300 miles from our shop in Pasadena, CA.
You can also have it shipped "Hold for pickup at freight Terminal" and get the lowest commercial rate !

A Qualified* Commercial Address is defined as a business address in an area that is incorporated or "Zoned" commercial and where a large truck has "easy access" to a loading dock. Or have it shipped "Hold for pickup at freight terminal" and get that lowest cost shipping.

Shipping rates can vary greatly depending on where you live. More remote commercial shipping addresses on the East Coast, New England, New York, New Jersey as well as Florida or the upper Midwestern States such as North Dakota, South Dakota, Minnesota, Wisconsin, Indiana, Michigan and Ohio, for example, require additional shipping charges usually running between $135 and $235, depending on where you are. These types of shipping destinations are more expensive to ship to from us here in California and some have gone even more for delivery into remote or crowded expensive delivery areas in the Northeast.

The customer will need to make up the difference between the "Free" shipping allowance ($99) and the actual shipping costs. In any case, FMI will contact you if there is additional shipping due.
Shipping to a residential address is $65 more to any State as it takes special handling by the freight line.

For exact shipping quotes inside or outside the continental United States CLICK HERE, describe the instrument as below, tell us where you are and we'll e-mail a shipping quote back to you.


Important: Make sure your new bass plays like you need it to. Click here to find out about our New Bass "Custom Shop Setups"




K&K Pickups for every imaginable musical instrument.
We sell all the K&K Products.


HOW TO FIND OUR STORE:
Turn down our driveway between the Retirement Center and 789 East Washington Blvd signage. Plenty of our own off-street parking. (Follow the signs that say "789 Parking in Rear".)
Our physical address is 789 East Washington Blvd. Pasadena, CA 91104.
Ph: 626-794-7554

Fantastic Musical Instruments specializes in the violin string family instruments
with a caring hands on approach.
Hours: Monday through Friday 11 AM to 6 PM
, Saturday 10 AM to 4 PM.
Sundays by appointment.
Call Ph: 626-794-7554 at least 48 hours in advance
for a Sunday appointment.
Need more information? Didn't find what you're looking for?
Give us your feedback.
Tell us how we're doing and how we can better serve you.
Click here to email Sales. OR Click here to email Customer Service.


View Larger Map