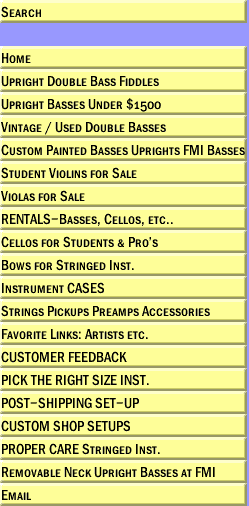 FMI Friends- Musician's Websites
Musician Resources
FMI Partners
Music Notes for Thought
FMI Friends- Musician's Websites
(an eclectic array of FMI customers in no particular order.)


Poor Man's Poison, hailing from Hanford, California won the Texaco Country Showdown, the 31st annual country music extravaganza that took place at the legendary Ryman Auditorium in Nashville on Thursday Jan 17th 2013. Jewel, the American Music Award winning singer-songwriter and multiple Grammy nominee, hosted and performed at the one-hour television finale. FMI sponsors "Poor Mans Poison" Bass Player Dustin Medeiros with a classic 1949 Kay Bass decked out with traditional 1950's, Bill Black trim and a K & K bass pickup. The other band members are Ryan Hakker, Mike Jacobs and Tommy McCarthy. The Texaco Country Showdown is a yearlong talent competition in which some 50,000 performers participate in over 450 local talent shows produced by country music radio stations across the nation. With the win, the band earned a check for $100,000, a record deal and the title of "Best New Act in Country Music". Visit them at: www.PoorMansPoison.com

Reverend Horton Heat is an exciting act to hear and watch. Hailing from Texas, lead singer and guitarist extraordinaire, Jim Heath, aka, Reverend Horton Heat, has been performing live for many years. He officially formed this band in 1985 after giving an impromptu performance of "Folsom Prison Blues." The band's non-stop touring schedule had rocketed them into the top of the underground music scene. Everywhere he goes fans of all ages pour out of the woodwork to see him. He is truly a Texas Rockabilly original. It's amazing how much music his trio puts out. And - they are so tight they squeak. His hard working trio is completed by Jimbo Wallace slapin' out hard on his Big Mouth Bass & backing vocals and Paul Simmons kicking out strong on the grove on the drums/ percussion & backing vocals. Click on the (blue) link above or go to his MySpace page here to catch their schedule. They are a "Must See & Hear". myspace.com/reverendhortonheat

Jim and Inge Wood
Jim and Inge perform primarily as a duo and present an eclectic mixture of folk and fiddle music that reflects their diverse backgrounds. Jim is a five-time Tennessee Fiddle Champion and twenty-eight year veteran of the professional Nashville music scene. He also plays mandolin, banjo, guitar and Upright Bass. Inge, a native of Costa Rica, performs on guitar, bouzouki, and fiddle, and sings a wide range of both original and traditional folk songs in English and Spanish. Jim and Inge are also very committed to helping others to learn and offer a wide array of educational tools.

Nancy & Phil
"Mellow music with a snap." Old standards, traditional country, original songs & more in a folk country style with a hint of jazz. Nancy and Phil Halpin began singing & playing together in 1970, the year they were married. Nancy handles the upright bass & vocal harmonies backing up Phil's outstanding vocals & guitar as they perform an acoustic-style show with warmth and a hint of jazz (swing, snap, etc.).


Alex Valenzi & The Hide-A-Way Cats
Alex Valenzi is the greatest boogie-woogie piano player and the most distinguished Jerry Lee Lewis Brazilian disciple. The band plays storming sets always blowin' the houses down with their mix of traditional rock 'n'roll and original material. Rounding out the band are Fabio Brum - guitar, Leandro Negri - slap bass and McCoy - drums


The Ultra Kings
The Ultra Kings hail in their live performances with high energy blend of Rockabilly, Rock and Roll, and Honky Tonk. The Ulta Kings have played with the likes of Sleppy LaBeef, Rosie Flores, Ray Conda and his Ricochets, Wayne Hancock, the Starlight Drifter, as well as backing Billy Lee Riley.


Esprit World Jazz
Alright, here we go cookin' and a groovin'. Each band member is a veteran musician with a diverse musical background. Together they create a stew that blends into a sound euphoria. "FAN-FREAKING-TASTIC!!
"I can't believe what a groove you guys had....Honestly, I was so stoked by that music--and your collective energy--I could have listened all night!" L.L. Check'em out folks.

Barkin Barney & the Tall Boys
Great original Country /Americana. After many years of playing back-up for "Headliners" in the music business, Barkin Barney decided to sit down and tell his own story, writing his own songs. He hand picked a band from players who answered his call and REALLY "lucked out", with some real "Giants". We love'em.
Jamie Aaron Kelley
Jamie Aaron Kelley is truly amazing. He is the very first person in history to memorize every song that Elvis EVER recorded in his career and then sing them all in public to prove it! The Record was finalized at 7:05p.m. on Sunday, August 15th, 1999! Graceland presented Jamie with a certificate for honoring Elvis' memory! The first time that has ever been done...


Jim Anderson's Monk-music.com
From Madison, Wisconsin Jim is a very talented musician, songwriter and all around great guy. "I just completed 2 CDs for National Public Radio's RPM challenge. The challenge was to create an all original 10 song album within the month of February. I got motivated and decided to do two ! Featured here are some of the songs off these 2 albums.


NUDIE & THE TURKS
Home based in Price Edward Island, Canada. Formed in the spring of 2005, Nudie and the Turks took their vision first to the streets, busking anywhere and everywhere…this lead to an East Coast Music Awards showcase; no small feat for a three month old band. After playing the clubs and a 6 month residency at the infamous Elm Avenue Social Club, they decided to follow Willie Nelson's Maritime Tour in 2006, busking for the people going in, then playing a show in each city. Four shows into the ten city tour, Billy English (Willie's percussionist/drummer) joined them, playing snare drum. They then got on the bus, hung out with band and crew, and were asked to play the end of tour party in St. John's. As well as seeing a few shows backstage, an invitation was extended to come to Texas to play Poodie Locke's (Willie's tour manager of 30 + years) club outside of Austin.

Brad Colerick
Colerick's music blends Americana, Folk and Country to create smooth, catchy melodies that seep into your heart with a single listen. His finely wrought, plainspoken lyrics find the poetry in everyday language to celebrate the often forgotten moments that make life worth living. "My California" contrasts the dreams of a mid-western boy with the reality of LA, a wry reflection on the perceptions and misconceptions of the Golden State. Its loping beat and chunky rhythm guitar take us down Sunset Boulevard with a perfect combination of wide-eyed wonder and smoggy cynicism.

Grass Mountain Hobos
The Grass Mountain Hobos are a gathering of backwoods friends who can be described wholly as a gang of hard working, light hearted foot stompers, who have an almost religious enthusiasm for good old fashioned hand made home-grown music. The Hobos have taken their own beliefs of a simpler life grown in the living rooms and fields of western Prince Edward Island and brought them to life on stages across the Maritimes. People of all ages enjoy the nostalgic sound and look of the Hobos...


The 454's
With Rey "The Shark" Torres on Vocals and spankin' a mean Upright Bass, the 454's are Fast, Loud, Rhythmic, and always turning heads. Since 2004 they've ripped, roared and shredded through every backyard, Bar, Club and concert they've ever hit. Their spirit is to put the ROCK back into ROCK-N-ROLL. Their influences of Rockabilly, Punk, Rock and Country are very apparent in the music they write…


The Sugar Daddy's
THE SUGAR DADDYS were formed back in 1995. Since then, they have been playing their brand of rockin', swingin', charged up rockabilly to packed houses from coast to coast and overseas.




Keslering Ridge
The Keslering Ridge Bluegrass band are one of our Bluegrass buddy's north of the boarder up in Ontario Canada. Check them out. They sound great and have a lot of fun.



Rhythm Dragons
Anthony Vincent & the Rhythm Dragons are Arizona's own hollow body blasters, playin' Rockabilly and big bottom instrumentals.




I-10 West
We have a wide range of styles and sound. The only thing I can say we sound like is I-10 West. So come to a show and take a ride from coast-to-coast on the I-10 west train and see what we are all about." I-10 West is out of Phoenix, AZ. Check'em out on MySpace below.



Gerry's Walk-A-Billy Bass
Greetings from Cape Cod, Massachusetts and Bassist- Gerry Watts. "I started playing drums while in my twenties. I loved playing but it just wasn't my instrument. One day, I picked up a bass, started fooling with it &...music poured out....




The Universally Famous Rocket Surgeons
Hailing from Breckenridge, CO with master bass blaster Brett Lomoro they say, "Come Catch a Smokin' Train with Us". Check'em out on Myspace here.




Thile, Instrument Technician
Thile, Instrument Technician

http://campus.murraystate.edu/staff/scott.thile/index.html

Musician Resources



Visit KayBass.com for the most complete compilation of information about Kay basses and other American made upright basses on the Internet.


Music News Nashville
Music News Nashville started as a small newsletter by Dan Harr to pass information on to others about his playing schedule, as well as those of a couple of his friends. Within a month, the newsletter had grown to include dozens of other artists who liked the idea and the mailing list went from about 25 people to over a thousand. The mailing list has now surpassed the 40,000 mark and keeps growing every day, while the content of the newsletter continues to incorporate more information. As we continue to grow, Dan looks to keep developing Music News Nashville into the industry standard e-magazine for all the news you might want to know about Nashville and beyond. So, check out the site and see what you can find. They have the information about the music industry that readers of the magazine have come to expect. Their e-magazine is now being viewed by over 1 million people per month. Check out Music News Nashville and sign up for their newsletter.





"A" Sharp Music Method
Since 1997 over 1,000 students have taken music lessons at our 3 different locations. We started as a very small school but have grown to become one of the largest music schools in the area. We are dedicated to providing positive professional instruction to students of all ages and levels. As a parent we realize you have a choice between several different music schools. All studios are not the same. We constantly renovate and improve our facilities and provide ongoing training to our staff to ensure we are always providing our students and parents with the best experience possible.

THETA SOUND STUDIO
Because the world needs your music!
Established in 1977 by Songwriter / Composer / Producer, Randall Michael Tobin, Theta Sound has evolved into one of the most versatile and comfortable recording and post-production facilities in the Los Angeles area. Located near Walt Disney Studios in Burbank, California, Theta Sound services the composer, songwriter and recording artist as well as directors and producers of film and television projects. "An environment where you can do your best." ~RMT. Please join us for the TOUR...



2000 Guitars Database: Fantastic Musical Instruments, Inc.
Great Selection of Fantastic Instruments at Bargain Prices

http://www.guitarsite.com/database/Stores/rec/7400
TalkBass.com: Bass Guitar and Double Bass Community Forums, Gear Reviews, Tabs, and More
Bass guitar and double bass online community. Gear reviews, expert advice from all corners of the bass world.


http://www.talkbass.com/





Bluegrass Music: Bluegrass Festivals, Bands etc. featured at Bluegrassworks.com.
Read about bluegrass bands or search for upcoming bluegrass music festivals and concerts at Bluegrass Works. We are the number one resource for news and information for bluegrass music, blue grass musicians, and fans.


http://www.bluegrassworks.com/index.php



Jazzitalia - Just Friends
Jazzitalia - Just Friends


http://www.jazzitalia.net/LinksMain.asp




Rockabilly Radio
The Voice of Rockabilly. Request your favorite Rockabilly song, Featured Artists, Rockabilly News.


http://www.rockabillyradio.net/





FMI Partners
Eastman Strings
Eastman Strings is widely recognized as a leading maker and distributor of fine stringed instruments and bows ranging from fractional size instruments for young beginners to outstanding master instruments and bows for advanced and professional players. Over the years, we have striven to supply musicians with the best possible quality at reasonable prices. The wide variety of instruments available from Eastman Strings includes Chinese, German, and Eastern European lines. All are distinguished by their quality materials and expert craftsmanship. Instruments by Eastman Strings are crafted using traditional methods and materials. Aged tonewoods and quality hardwood fittings are fashioned by hand by talented craftspeople under the guidance of master luthiers in precisely the same manner as the famous German and French workshops made them a century ago.



The Music Link
The Music Link is a wholesale manufacturer and distributor of musical instruments. Our goal is to bring you the most highly-crafted instruments with respect to longstanding musical traditions, accurate historical designs and unbeatable value. Since 1997, we've established ourselves as a premier manufacturer and distributor of instruments nationwide. What began as a small operation in a garage in Brisbane, CA has developed into a massive musical instrument corporation with warehouses on both sides of the U.S.


Fishman Transducers
The Fishman revolution got its start with acoustic instrument pickups. Larry Fishman's first product to market was the BP-100 acoustic bass pickup, which was created to solve his own personal amplification needs as a jazz bassist. Larry's drive to make himself heard while retaining an incredible tone carries over in Fishman products for the violin family, banjo, mandolin, harp/piano and more.


Saga Music
Saga Musical Instruments has steadily grown to be one of the largest importers and distributors of stringed and fretted musical instruments in the world. For close to 30 years Saga has been a global pioneer in the successful development, marketing and distribution of high-quality student and professional level musical instruments. We have traveled the world, often to remote destinations, in search of skilled and proven manufacturing sources to meet our quality requirements and supply demands. So when you purchase instruments, parts or accessories from Saga, you know you're going to the source... for the finest quality musical instruments on the market today.


Greg Bennett Guitars
For almost 40 years Samick has manufactured product for the leading brand names in the guitar business. In the process, we learned a great deal about not only what goes into a great guitar, but how to produce it at an affordable price. We also realized that the ability to produce quality product at an affordable price was only half the equation. There needed to be an all out effort to develop a powerful new identity for the product and our company.

We needed an entirely new line. For this enormous task, we called on Greg Bennett, an industry marketing and design veteran of almost 30 years. Greg's experience in high level marketing positions with the industry's leading manufacturers and retailers, coupled with a formal design and performance background, made him uniquely qualified. The challenge was to take the majority of credible design or style categories and design product that in effect paid tribute to the original designs while creating a new and unique perspective.




Concord International Group
We are committed to manufacturing Christopher® Double Bass, Cello, Viola, & Violin, Concord® Cases & Accessories of the highest quality for the student & professional market. Our company was founded in 1987 with an office in Elk Grove, Illinois and manufacturing facility in Beijing, China. Over these 18 years, we have grown to become one of the largest string manufacturing facilities in China. Concord® has made a significant investment in quality woods, aged in a controlled environment in our plant. Our expertise
in woodworking allows us to create and form our own veneers for our instruments. Attention to detail including the arch on the top and back of our instruments gives instruments a superior tone and lasting durability.




HOW TO FIND OUR STORE:
Turn down our driveway between the Retirement Center and 789 East Washington Blvd signage. Plenty of our own off-street parking. (Follow the signs that say "789 Parking in Rear".)
Our physical address is 789 East Washington Blvd. Pasadena, CA 91104.
Ph: 626-794-7554

Fantastic Musical Instruments specializes in the violin string family instruments
with a caring hands on approach.
Hours: Monday through Friday 11 AM to 6 PM
, Saturday 10 AM to 4 PM.
Sundays by appointment.
Call Ph: 626-794-7554 at least 48 hours in advance
for a Sunday appointment.
Need more information? Didn't find what you're looking for?
Give us your feedback.
Tell us how we're doing and how we can better serve you.
Click here to email Sales. OR Click here to email Customer Service.


View Larger Map